German-born luxury since 1976.



Founded during the Golden Age of Munich – an era of bright lights, jet set, and disco – Modern Creation München has remained an enduring icon for over 45 years.

Today, with its global creative hub based in Berlin, MCM is a globally diverse, multicultural brand, steeped in rich heritage. Celebrated by cultural icons, established and rising creative forces, athletes, and musicians, MCM continues to inspire and lead through its cutting-edge innovations and expert craftsmanship.

MCM is currently distributed online and in over 650 stores worldwide including Munich, Berlin, Zurich, London, Paris, New York, Los Angeles, Hong Kong, Shanghai, Beijing, Seoul, Tokyo, the Middle East and more.
Functional + Handsfree
We use advanced technology to offer the ultimate in luxury: granting more time and freedom via functional, handsfree design.
Sustainability + Innovation
By combining modern craftsmanship techniques, eco-conscious design, and sustainable materials, MCM promotes personal well-being while reducing carbon footprints.
Collaboration + Customization
Since it was first founded, MCM has been a common thread through the music, art, and design worlds. Creativity defines our aesthetic, customization empowers our customers, and collaboration is our driving force.
Birth of MCM
MCM was born in a Munich, along with a debut of 20 pieces exhibited in a glass tank (which once held a live alligator). The line used a hand drawn MCM logo complete with laurel leaves tied with a ribbon, an homage to Bavarian King Ludwig I and his passion for neoclassicism. This same logo is paired with a diamond outline inspired by the lozenges of the Bavarian flag to create MCM's cognac-and-black Visetos motif: one of the most widely recognized patterns of the period.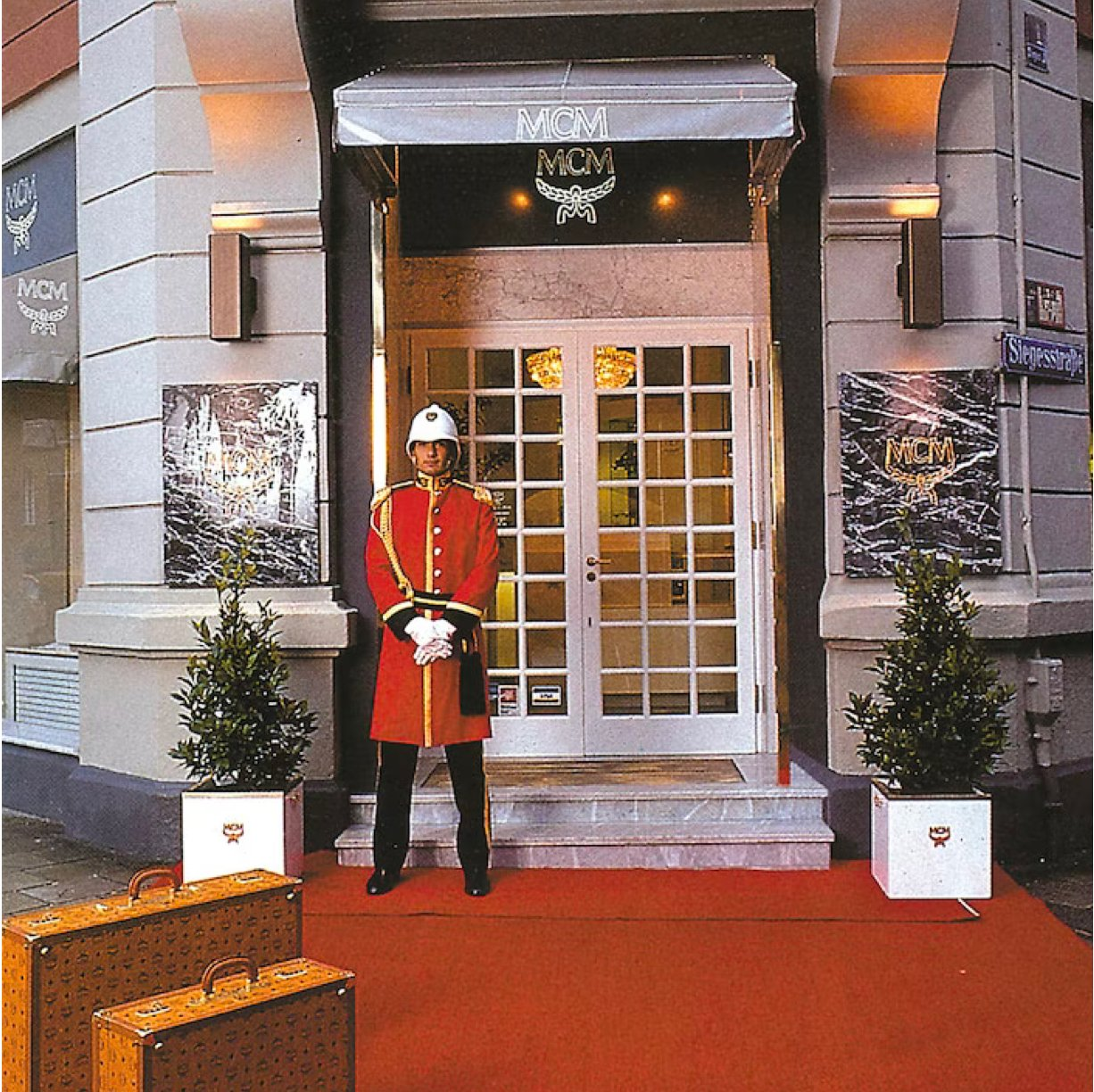 MCM Logo
Our iconic logo combines our name – Modern Creation München – with the laurel leaf, a global symbol of victory, honor, and valor.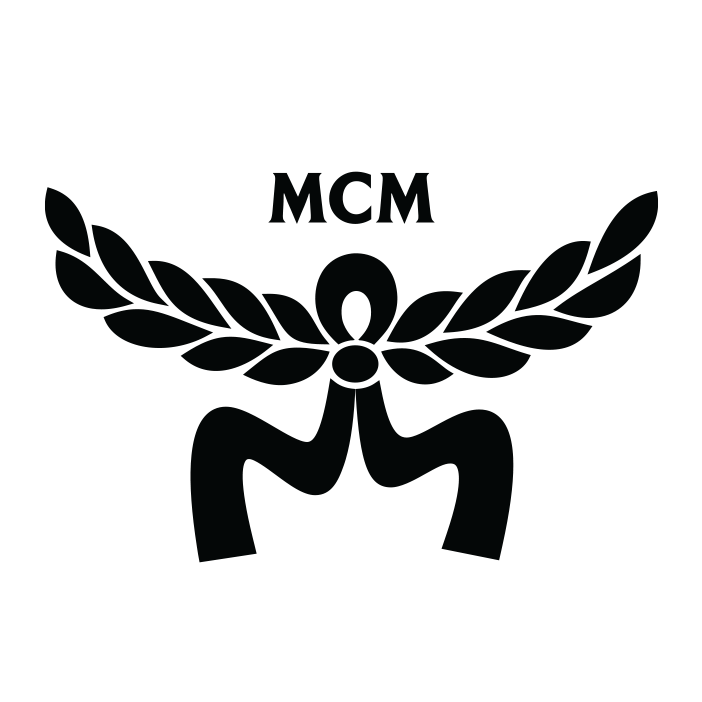 Visetos Print
Visetos is our most recognizable motif. Its classic iteration is called the Cognac Visetos and includes a black pattern printed over a cognac base.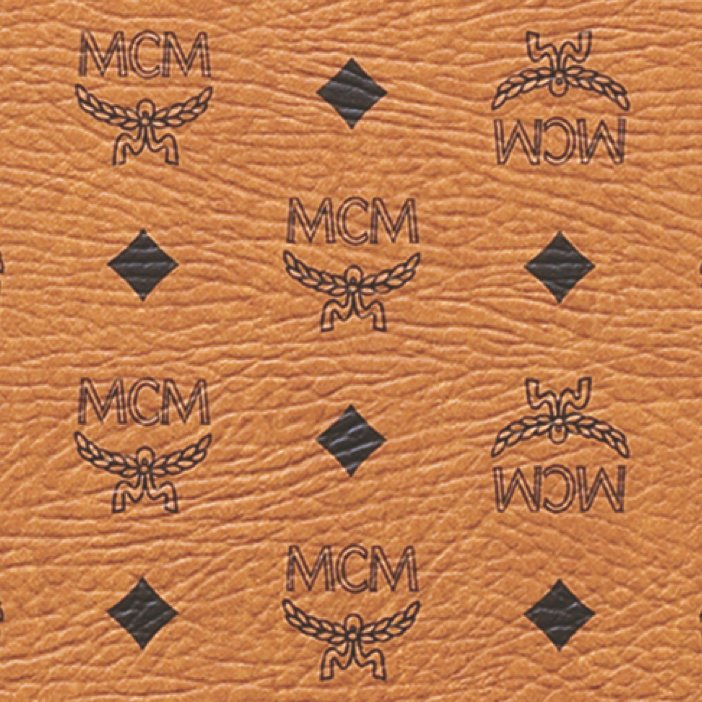 Brass Plate
The brass plate is our heritage emblem; each plate has a unique registration number which ensures that no two MCM products are alike.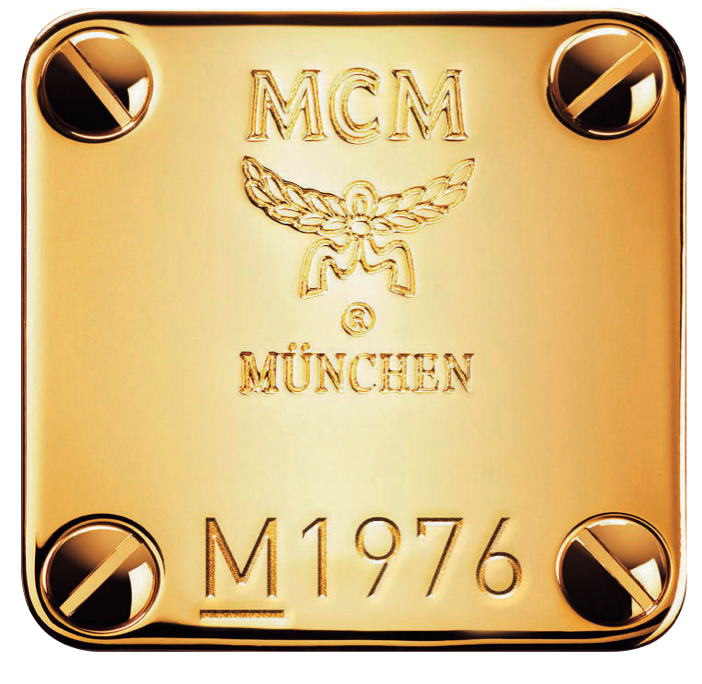 Bavarian Diamond
Part of the original hand-drawn Visetos pattern, the signature Bavarian diamond nods to the lozenge-laden Bavarian flag, the weiß-blauer Himmel.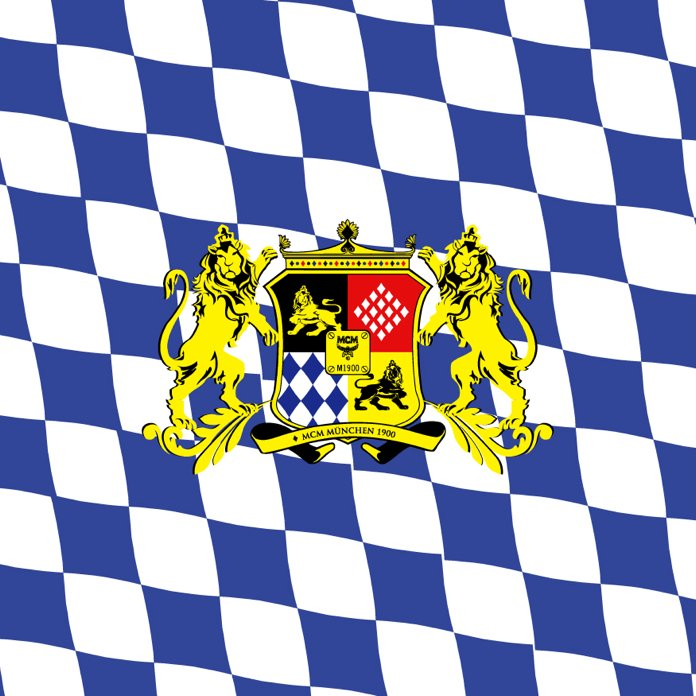 Key Moments of MCM History
Significant milestones for the brand which have shaped who we are.
1980s: MCM becomes a favorite of music icon, Diana Ross. The brand soon opens 250 stores worldwide, including locations in New York, Los Angeles, Tokyo, Paris, Milan, London, Brussels, and Madrid. MCM's luggage line is an instant hit across mainstream culture, a remarkable achievement for such a young brand.
1988: Meanwhile, MCM becomes a fixture in emerging hip-hop subcultures. It's one of the most requested designs by creatives like Dapper Dan, a fashion designer based in New York City's neighborhood of Harlem, known for creating one-of-a-kind designs by appropriating luxury logos to make complete custom garments—often times for athletes and musicians.
1996: A now-infamous ad campaign shot by Herb Ritts featured celebrated model, Cindy Crawford, partially nude with an MCM bag. On one photo she scribbles "I want my MCM."
2016 Tobias Rehberger Collaboration
Artist Tobias Rehberger – who won the Golden Lion at the 2009 Venice Biennale – creates an immersive art installation in MCM's flagship Hong Kong store for Art Basel Hong Kong. The store is covered in Rehberger's signature "dazzle camouflage": black and white stripes, neon tube lights, and fractals, echoing the limited-edition capsule collection Rehberger designed with MCM.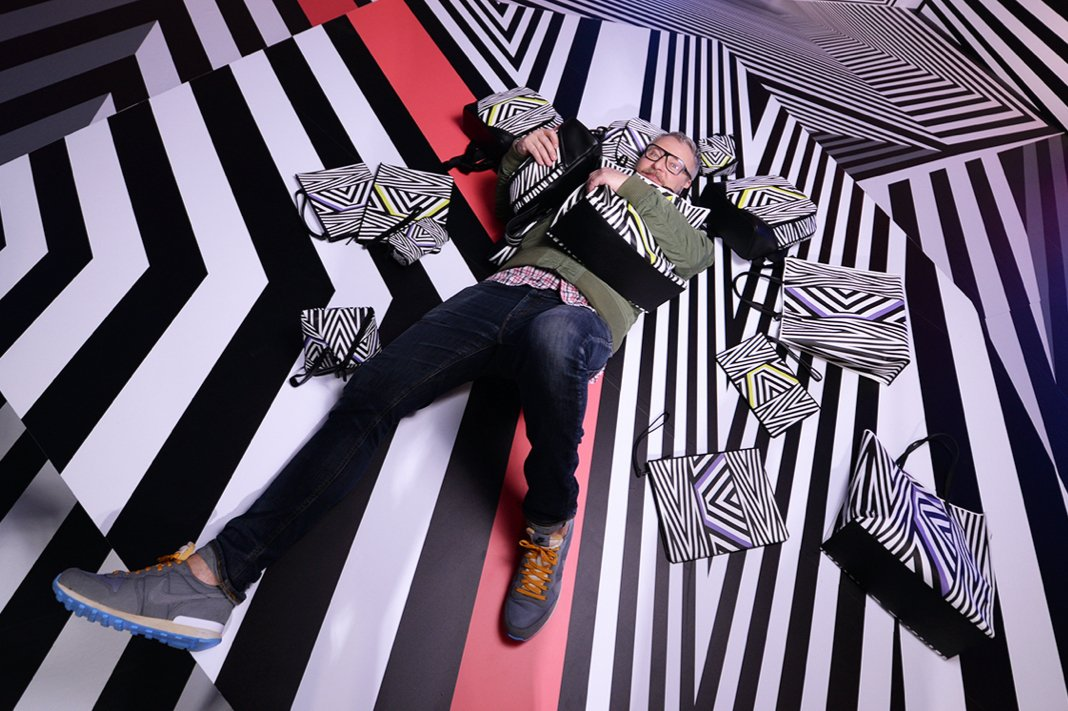 2017 Christopher Raeburn Collection
British fashion designer Christopher Raeburn debuts his collection with MCM for London Fashion Week. The collection exhibits bombers, parkas, ponchos, shorts, and leggings in fractal camouflage prints. In true Raeburn style, the materials include a dirt-repelling, UV-blocking fabric, as well as a nylon recycled from bottles by Spanish firm Ecoalf. Raeburn also designs modular weekend bags, totes, and backpacks.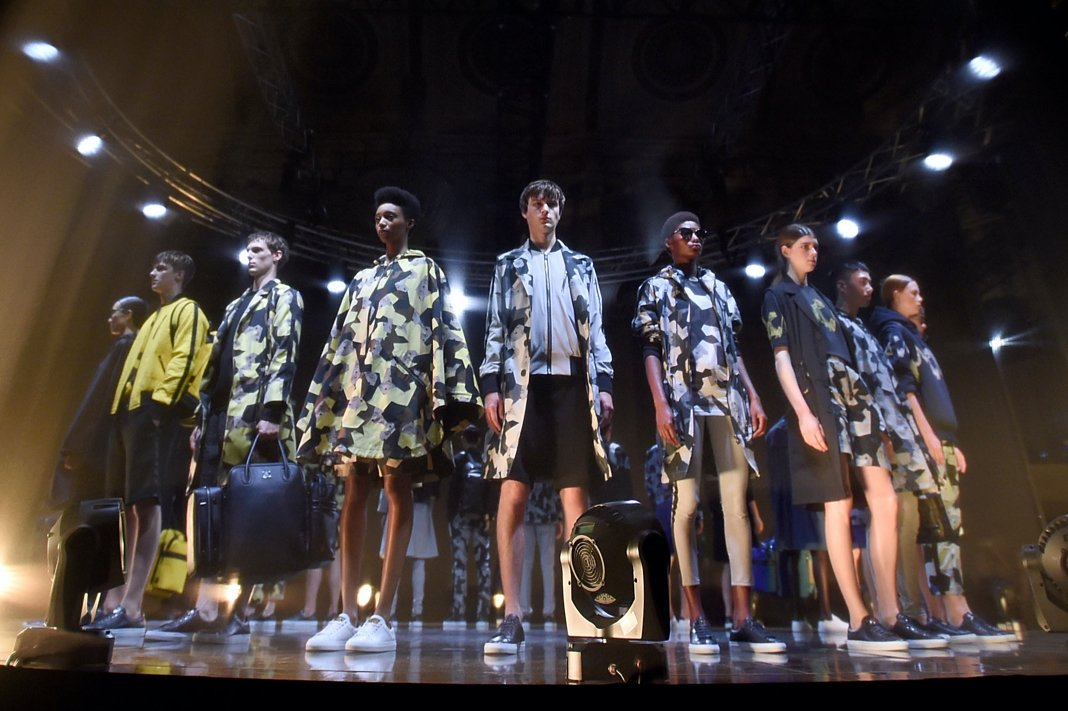 2018 Debut at Pitti Uomo 94
MCM debuts its first full ready-to-wear and accessories collection at Pitti Uomo 94, titled "21st-Century Global Nomad." The youthful, buoyant collection exhibits a colorful range of technical gear, hooded rain coats, jumpsuits, workwear, and mesh tops sporting the vibrant MCM logo. Accenting the looks are chic MCM monogram helmets, a nod to the brand's legacy travel accessories.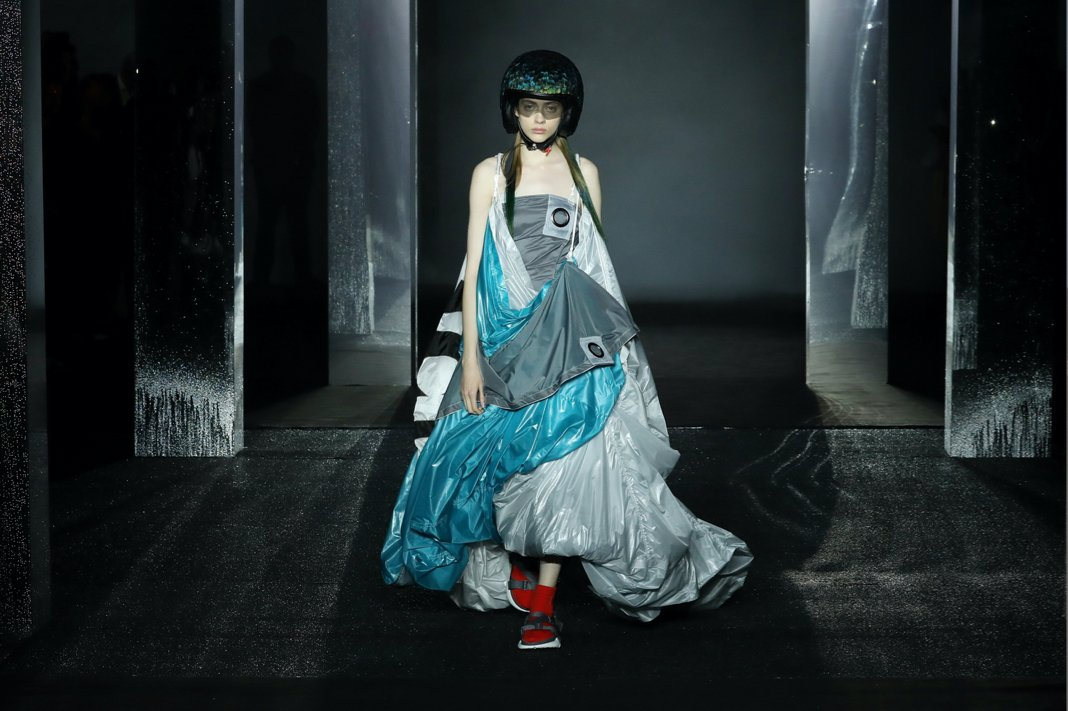 2018 MCM and Misa Hylton Join Forces
Image Architect, Misa Hylton, is appointed as a global creative partner at MCM. Misa, through her work and contribution as a pivotal fashion stylist, has created for music legends including Mary J. Blige and Missy Elliott. Having worked with Dapper Dan in her formative years and designing Lil Kim's infamous purple-pasty with matching jumpsuit for the 1999 MTV VMAs, Misa is celebrated today as one of the most transformative forces in fashion culture.

In 2018, Misa and MCM collaborated to make a full MCM bodysuit for Beyoncé's iconic music video with husband Jay Z, Apes—t. Rendered in classic Cognac Visetos, Misa's MCM bodysuit appears as a takeover in New York's Times Square to promote the album 'Everything Is Love' by The Carters.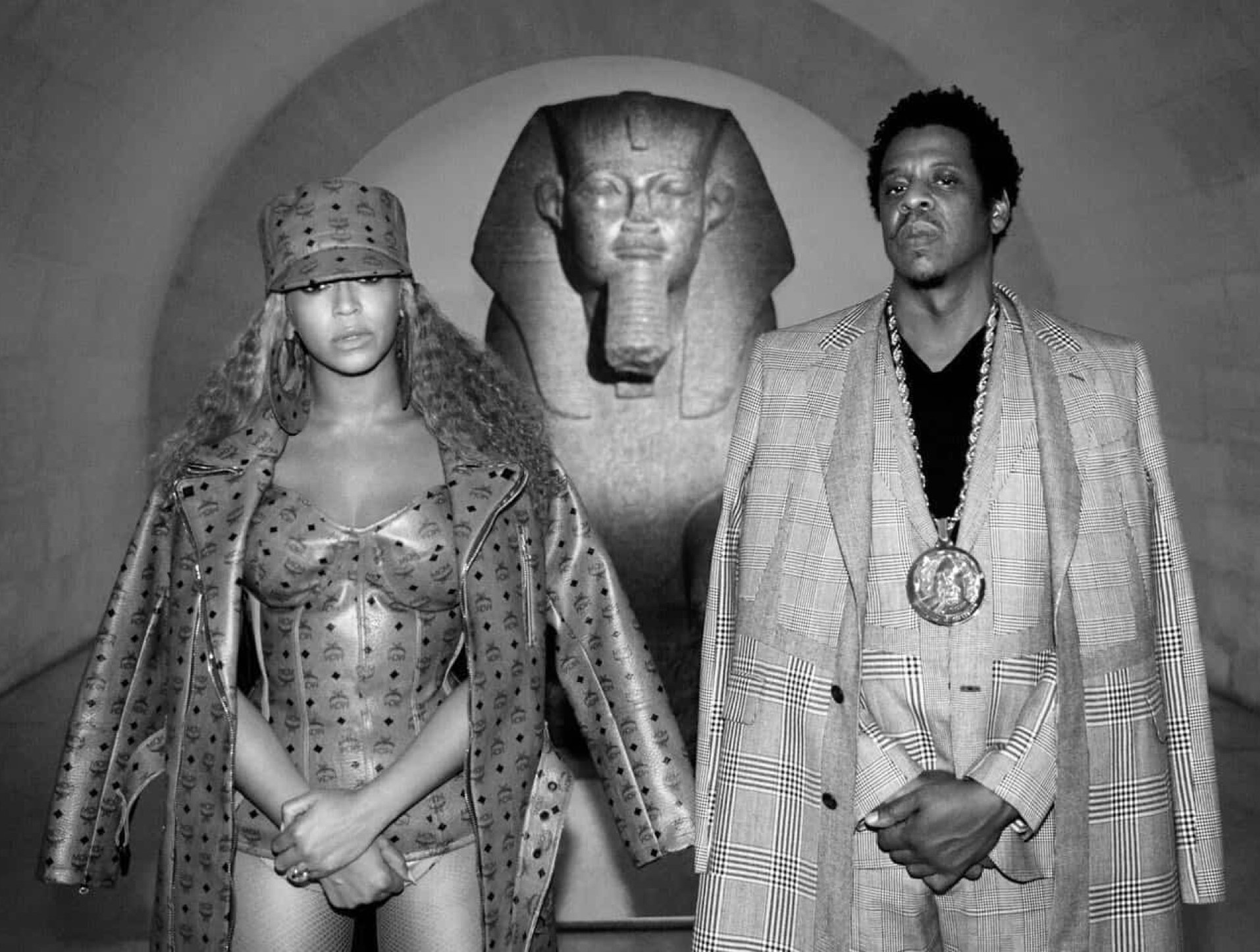 2018 The MCM x PUMA Suede Collaboration
PUMA collaborates with MCM for the 50th anniversary of its Suede sneaker. The collaboration comes in three colorways, each sporting the Visetos motif: classic cognac, all white, and red and blue. As with MCM's accessories, each pair of sneakers features a golden tongue plate with a unique registration number. The collaboration also includes an MCM-monogrammed tracksuit.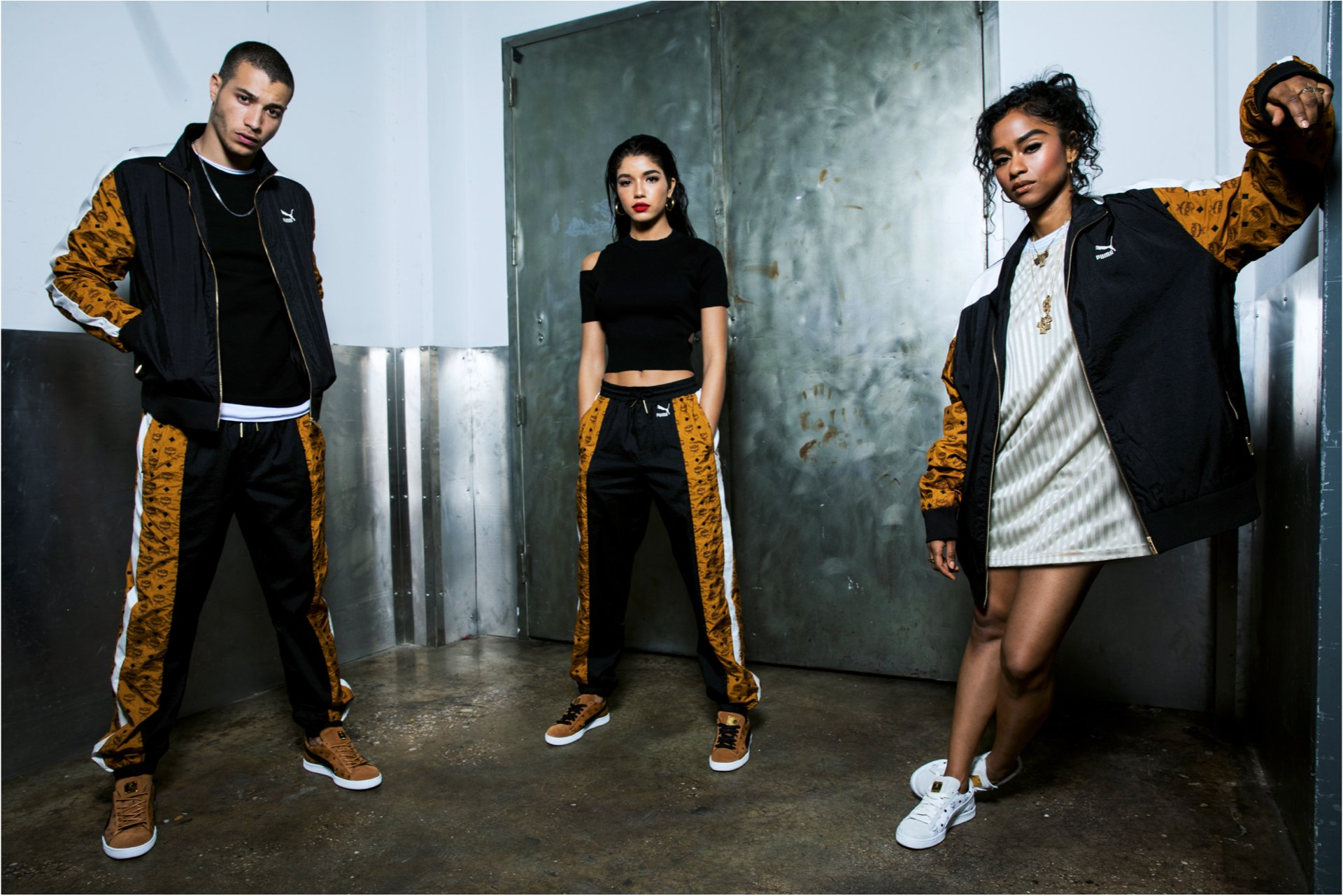 2018 Dirk Schönberger appointed as Global Brand Officer
MCM enlists Dirk Schönberger, previously from Adidas, as its new Global Brand Officer. Dirk is responsible for cult collaborations with Raf Simons and Rick Owens, as well as the revival of the Stan Smith sneaker. Many regard him as a pivotal innovator at the intersection of streetwear and luxury fashion.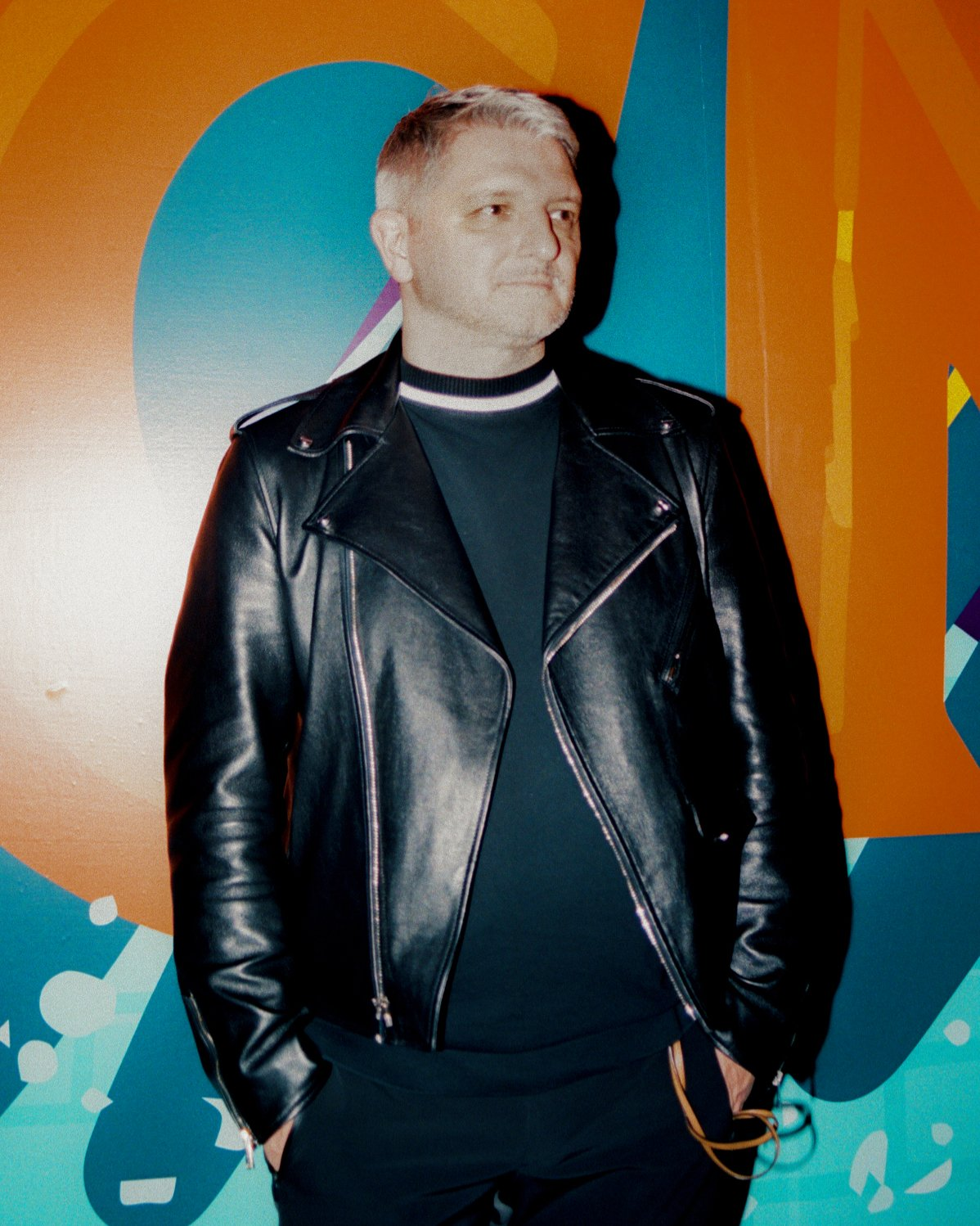 2019 BAPE Collaboration
MCM collaborated with BAPE on a cutting-edge capsule collection for the streetwear disciple. This collaboration included a hoodie, track jacket, crewnecks, sweatpants, and T-shirts. Along with the graphic heavy ready-to-wear, the collaboration also offered lux leather goods such as a weekender bag, backpack, wallets, and keychains.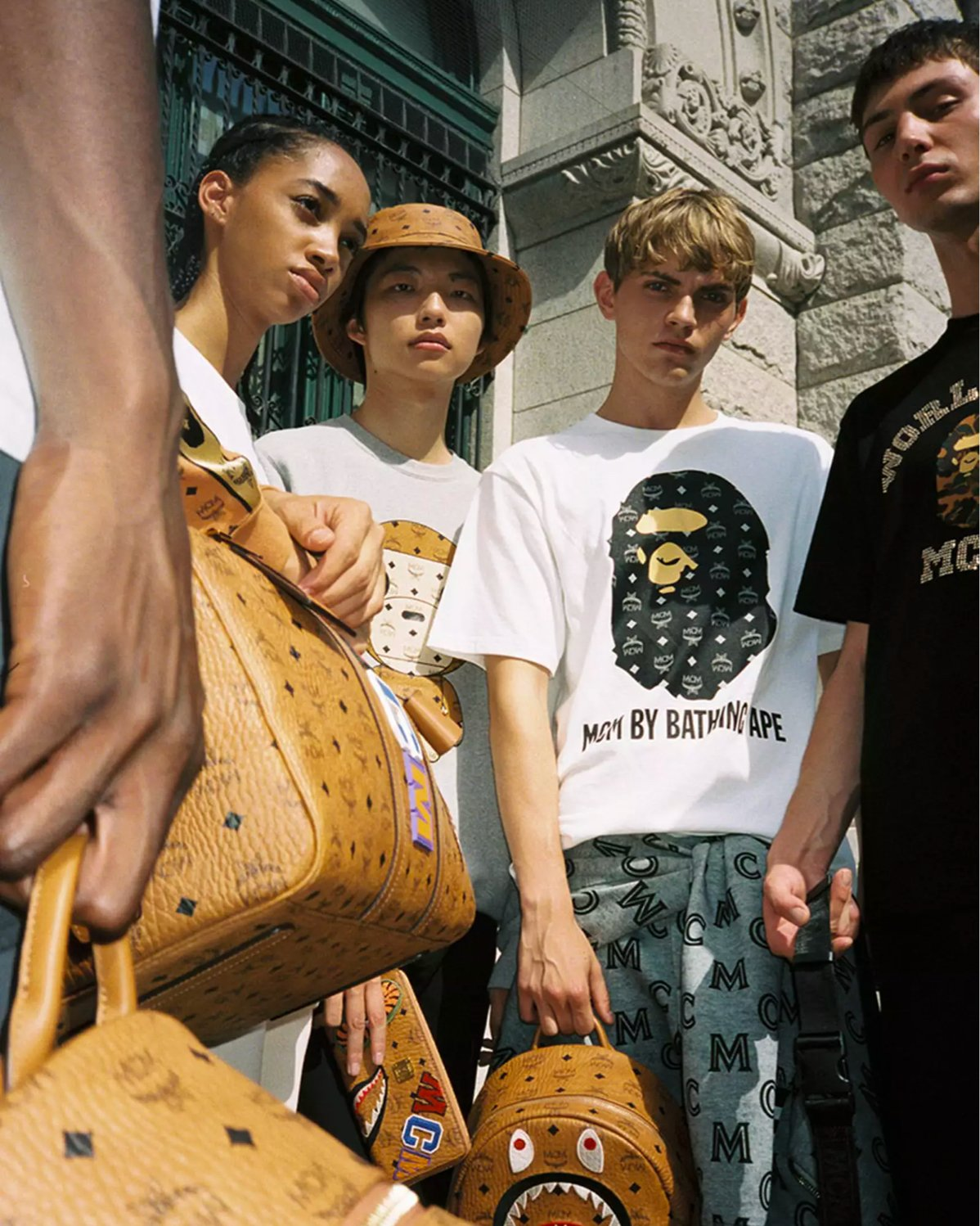 2019 The Remix: Hip Hop x Fashion Film
From the Bronx to Paris: The film follows the journey of renowned fashion architect and MCM creative partner, Misa Hylton, as one of the first stylists to meld streetwear and high fashion. The film delves into Hylton's most recognizable looks alongside her muses and friends, including Lil' Kim, Mary J. Blige, and Missy Elliott. The documentary reveals the global and cultural impact on the fashion world by female designers and stylists working behind the scenes. The film won six international film festivals and was released on Netflix for a global 18-month run, ending in January 2022.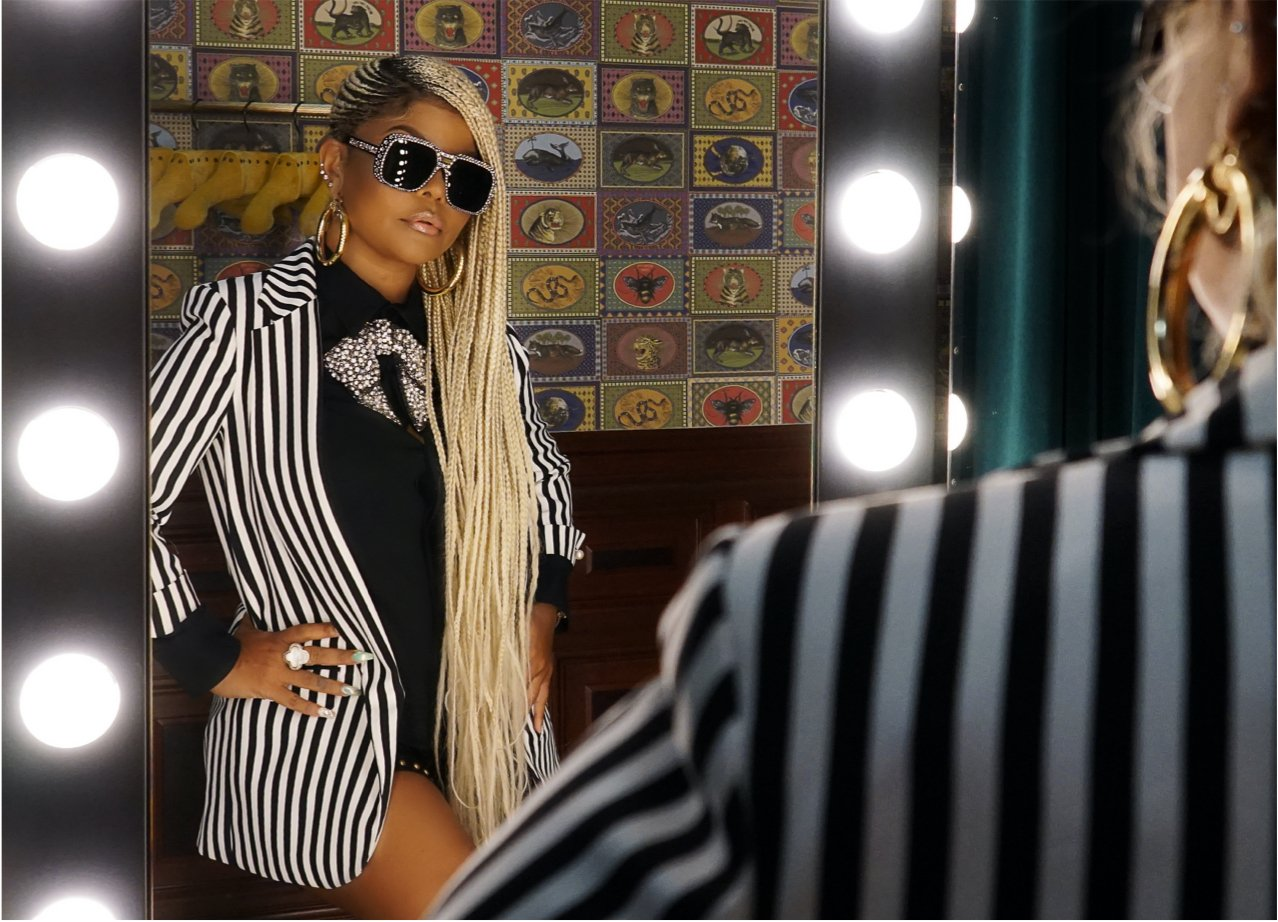 2020 A New Decade of Change & Action
We aim to become a sustainable fashion brand, which is why we've set up MCM Vision 2030: setting emissions reduction targets which are grounded in climate science through the Science Based Targets initiative (SBTi); furthering climate and ecosystem protection by increasing closed-loop production; and by prompting innovation, circularity, and inclusive growth. You can read more about our vision here.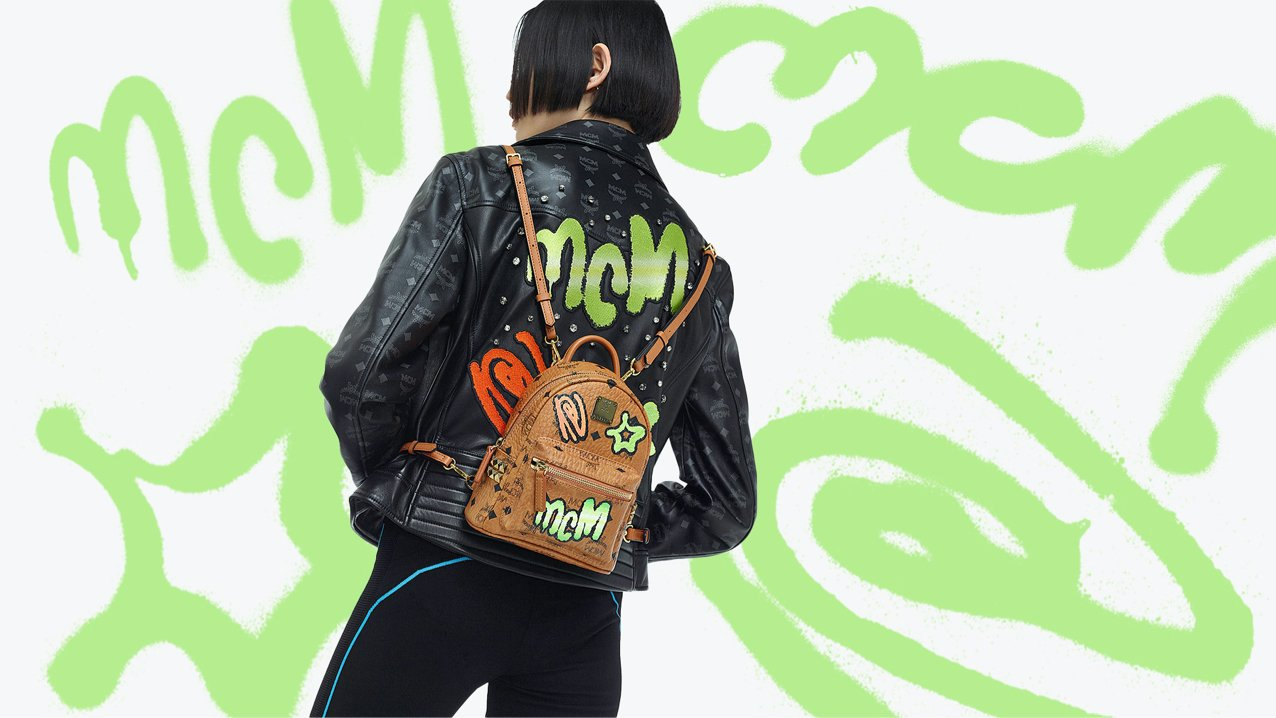 MCM's Essentials line uses organic cotton – farmed without the use of damaging chemicals.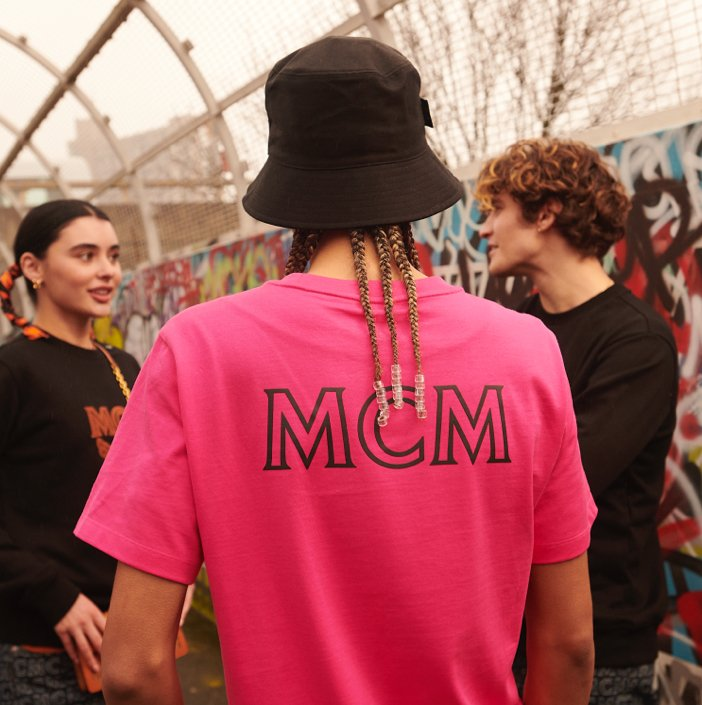 The Earth-friendly version of the Terrain low-top sneaker spotlights its biodegradable materials.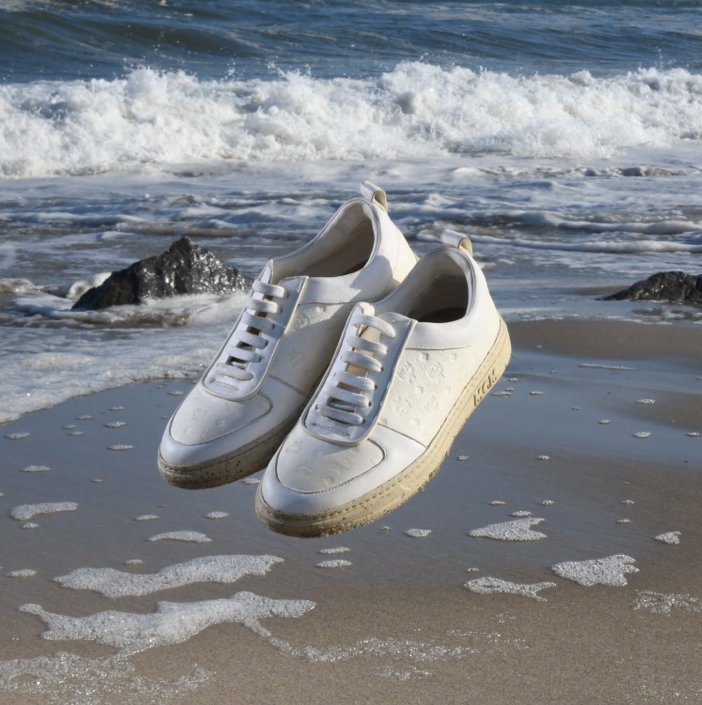 Econylon and biodegradable nylon enhances our outerwear, minimizing harmful waste.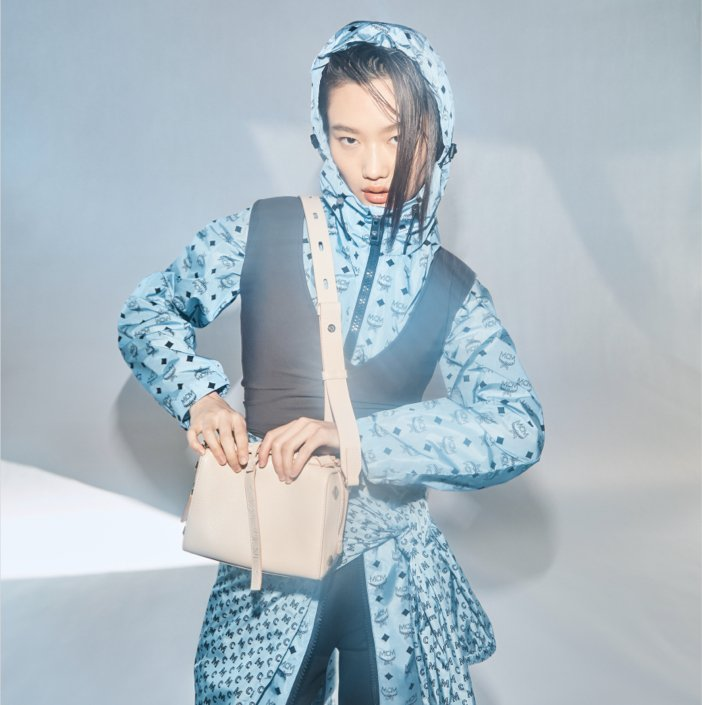 Our limited-edition upcycling projects use surplus materials left over from past seasons.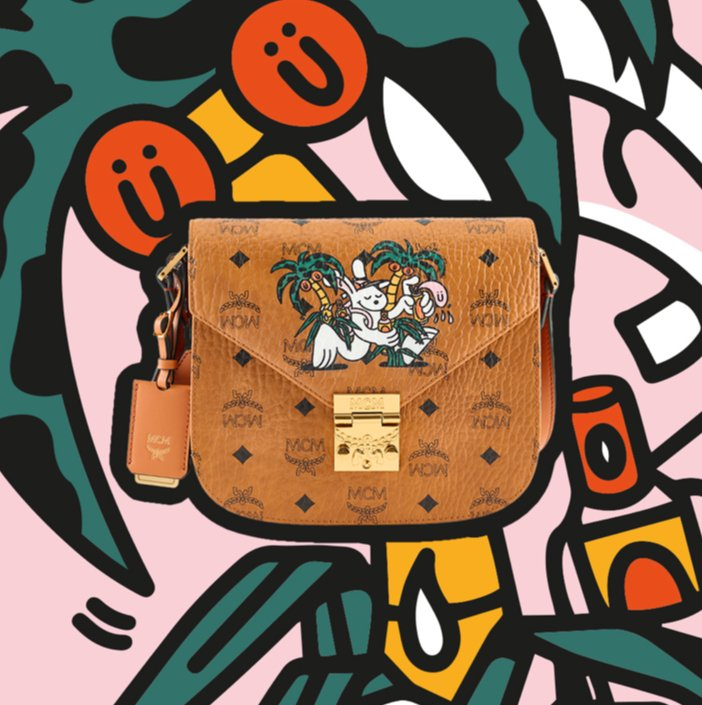 2021 MCM Eau de Parfum Launch
As spring arrives, so does MCM's signature fragrance. Capturing the essence of the brand's travel heritage, the fragrance takes you on a transcendental journey of the senses – combining the scent of jasmine and clean forest air. A one-of-a-kind design adds to the travel heritage, ingeniously housing the fragrance in a bottle which pays homage to MCM's renowned backpack.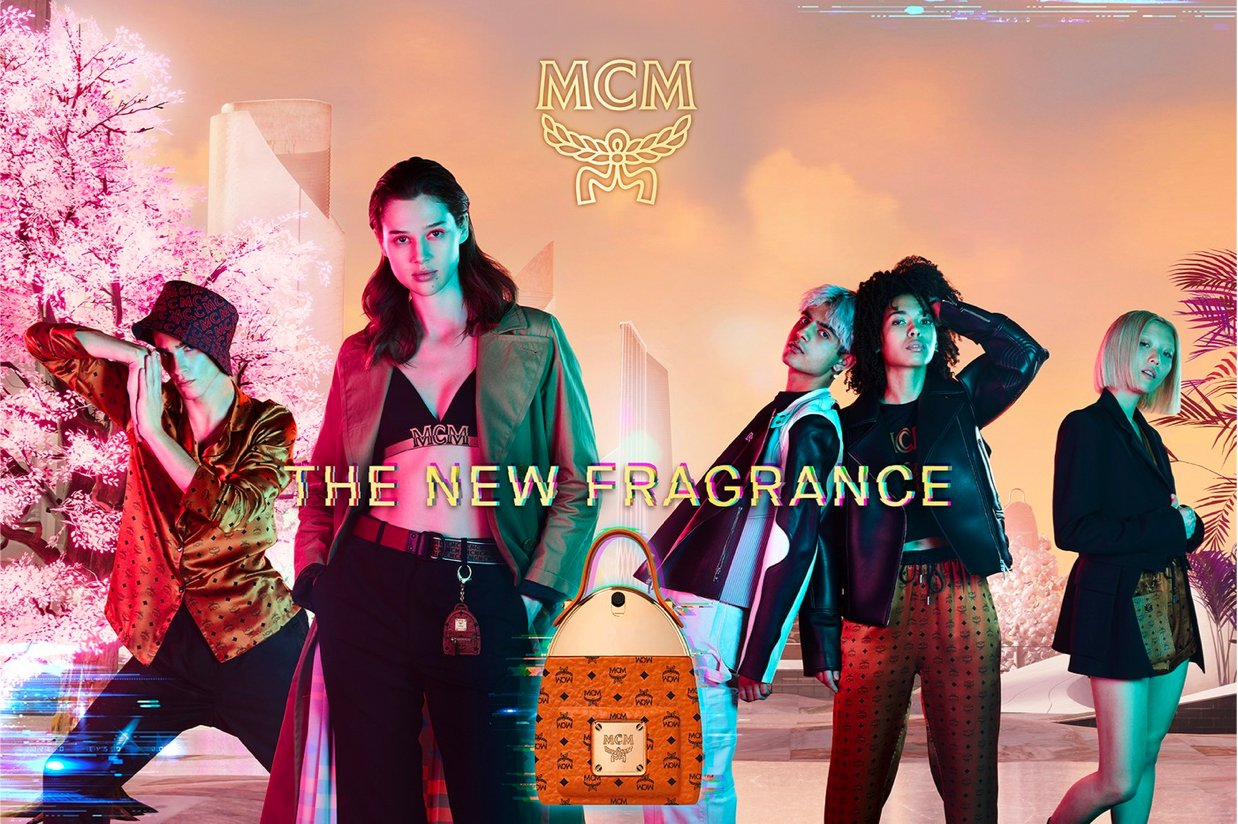 2021 New Cubic Monogram
The Bavarian Visetos diamonds undergo a dynamic 3D transformation with an all-new print: the Cubic Monogram. Emblematic of MCM's Munich roots, the badge is multiplied and rearranged to construct the new logo's spatial framework. The Haus letters complete the architectural mirage with a clean-lined design informed by Bauhaus values.